NO TIME TO SAY GOODBYE: SURVIVING THE SUICIDE OF A LOVED ONE (Broadway Books/Doubleday, 1999)
Buy from Amazon, Barnes & Noble and Broadway Books
Also available in Japanese from Fuso Publishers; Korean from Kungree Publishers; Portuguese from Martins Fontes Publishers

NOW AVAILABLE IN AUDIOBOOK BY TANTOR MEDIA NARRATED BY CARLA FINE
ALSO AVAILABLE IN EBooks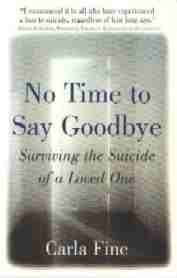 With this book, Carla Fine brings suicide survival from the darkness into the light, speaking frankly and with compassion about the overwhelming feelings of confusion, guilt, sadness, shame, anger, and loneliness that are shared by all survivors.

"I recommend it to all who have experienced a loss to suicide, regardless of how long ago." Frank Campbell, Ph.D., Past President, American Association of Suicidology

No Time to Say Goodbye, an international bestseller now in its 26th printing, is a personal story: Carla's husband, a prominent New York physician, killed himself in 1989 at the age of 43. She also interviewed more than 60 people who lost sons and daughters, wives and husbands, fathers and mothers, sisters and brothers, friends and relatives to suicide. The book describes stages of grieving surrounding the suicide of a loved one and helps survivors see that they are not alone in their confusion and grief.